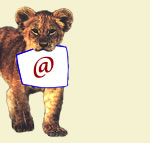 (Congo DCR)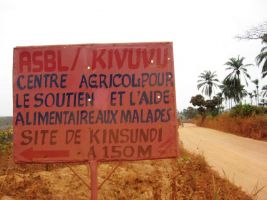 2008-12-01
Update from Congo (Congo DCR)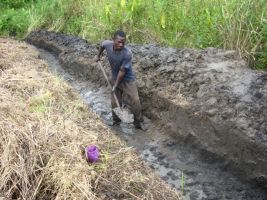 2008-06-03
We receive some good news from Sister Cecile from Kisantu hospital, telling us that the token we left towards food and medicines has been used to buy ...
San Luc Hospital – Kisantu (Congo DCR)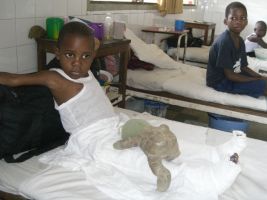 2008-04-27
People suffering from Tuberculosis and Aids (many are children) are kept away from their families and nobody takes care of them. In this hospital, ...

Congo DCR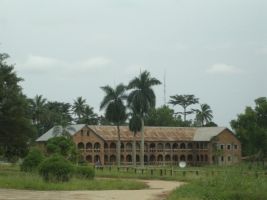 Our arrival.
This time we are lucky. After three hours of slow and laborious procedures, we leave the port. We head towards Kisantu. By the time we arrive it is already night, after having travelled 120km through the rain and heavy traffic.
In this village, there is a very old cathedral, built at the beginning of the 17th century by the Jesuits, in 1838; the same people built the hospital that we will be visiting.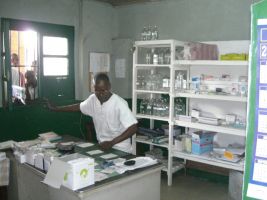 We meet Sister Cecile from Switzerland, who shows us what the place needs. We decide to donate an Elfo token for solidarity.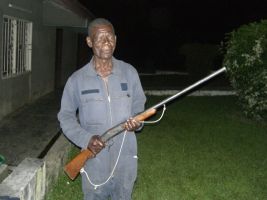 The night watchmen often determine the "social atmosphere" of a place. Here, they carry shotguns.
We camp at the Sant Marie Mission for a total of 10 dollars. A nice and clean place.
GPS S05°07.442 E015°05.046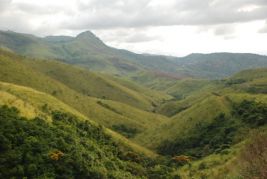 Matadi – 27th April
This region in the south of Congo is hilly and very green. Little forest but a lot of grass. The road is used by lorries, which transport goods from the port to the capital.
We finally get to Matadi, a chaotic city with a big port on the Congo River. We camp at the Sisters of Charity mission for 10 dollars. It isn't great, but it is the best in town. GPS S05°49.073 E013°27.664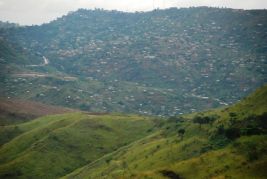 Angola – And finally, the Visas!
The embassy is near the market GPS S05°49.308 E013°27.664. We arrive at 9:30 and after waiting for seven hours, we leave with a transit-only five-day visa. It is valid from tomorrow. We pay 80 dollars each and 1000 Congolese Francs. We are not very happy with the treatment we received. A long wait for a ridiculous visa. Anyway…


The border – 29th April
7:45 and we arrive at the border just a few kilometres from Matadi. Today is the first day of the transit-only five day-visa. We go to the police checkpoint, where we are told to wait. Over half an hour later, an official wearing a grey suit arrives with a book that he uses to record our details; couldn't we have done this whilst waiting?. This takes twenty minutes; the details are copied from the Gabon visa but not the one from Angola (there are two people checking the documents). After they finish registering the details, the official invites us in to his office, where-by he begins re-writing the whole thing again, as he feels it isn't well written… a further 30 minutes. Then we are told we need to wait for his boss to sign the passports… but, wasn't he the boss?
In the meantime, we decide to carry out the paperwork for the customs. An eager and well-prepared secretary fills in and signs the "Carnet de passage"…but what about the stamp? A customs official has taken the stamp home. A series of telephone calls and messaging start and soon we are told that he is on his way here. It is nearly 10 o'clock and we go back to the police office. We wait a bit longer, and finally the boss comes along to check everything and stamp the passports. In the meantime, the customs official
has turned up. First, he prays for ten minutes after which, he stamps the carnet.
Just a car check to follow and finally they hand us our documents to go through the barrier… almost three hours for two stamps!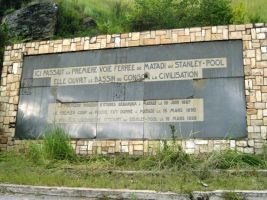 Our impressions
Definitely, a place to avoid. Chaos and anarchy, rules and regulations seemingly made up as you go along. Everywhere, there is a strong military presence, with military personnel often too young. Despite this, we were never bothered. On the streets, some were quite aggressive and suspicious towards white people. We also experienced requests for money. You do not really feel a sensation of danger, but there is a strong uneasy feeling.
There is only an asphalted road from the capital to the port. Police checks are quite frequent along with requests for money or cigarettes. The village is paralysed by a medieval bureaucracy, which makes any practice exhausting. Complaints from government officials towards the current presidency are common.
Since setting off on this journey, this is the first place where they have preferred American dollars to euros. In addition, for the first time, Land Rovers are commonplace.



Beer, signposts and curiosities…