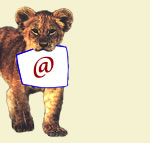 A place for the poor and the sick – Kingali (Rwanda)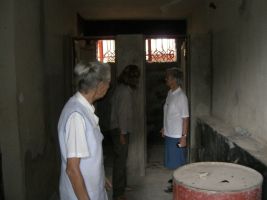 2008-10-22
After thirty years of work in the hospital and fifty in the mission, Sister Marie-Michel could tell us stories to fill ten books. The latest idea is ...
Refugee Camp (Rwanda)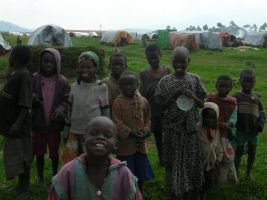 2008-10-20
These children are the result of the insanity, ethnic hatred and the dirty and shameful French interests in Rwanda (we are in 1994!). They were born i...

Rwanda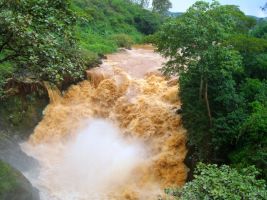 Rusumo Falls - 20 Oct 2008
Entering this land, you can sense the strange mixed feelings of ardour and anguish. It is very difficult to relate to the serenity of the place, the smiles from the policemen, the kindness of the customs officials and their promptness to carry out the daily bureaucratic routine. The atmosphere is calm, even though in the mid '90s, the streets lay strewn with bodies and blood was flowing everywhere. One side of its population against the other, bent on torturing and killing each other with machetes and the like.
On the border, there is a beautiful waterfall, right now, bigger and coloured red from the season's torrential rain. It seems to underline the extraordinary diverse beauty of this place, inseparable from its powerful ferocity and wildness.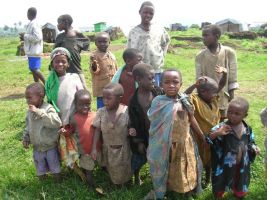 Refugees of Goma
We reach the suburbs outside the capital after nightfall, having covered the 170 kilometres in torrential rain; I'm sure we have just lost two years off our lives! We meet Stanislas Filipek, a Polack missionary who has worked here for many years. We chat with him and he tells us that the next day he is off to a refugee camp in Rwanda, just over the border. We decide to help by donating an Elfo token (details in the solidarity section)

Kigali - 21 Oct 2008
We obtain surprisingly easily – and on the same day – the Visas for Uganda ($60 each). In this city, there isn't much to visit, apart from a memorial…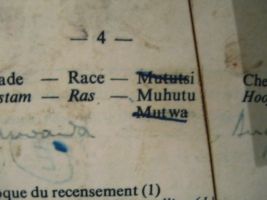 Ladies first, then children!
You would not believe it;
you cannot even begin to believe it,
or even just imagine it...
Now, looking around at these peaceful people, it is impossible to conceive that just 14 years ago, in 1994, lying along these roads, the butchered bodies of thousands; raped, slain and left quite literally in pieces: women, children and men. "Priority" was to kill women and children first, as the aim was to extinguish this race - the Hutu hunting the Tutsi minority, and also any moderate Hutu. An identity card was a death sentence. For four long months, this place became a blood bath, a place of butchery and bloody slaughter. Under the watchful eye of French troops, ignored by the ex-Belgian colonies and forsaken by the rest of us…
ONU troops, present on the territory for many years before, were withdrawn; accusations followed suggesting that this was not a contingent effect of command.
An insane race to kill your neighbours, friends and relatives. All and sundry involved in a manhunt like never before. The few "lucky ones" killed by shotgun and their heads cut-off, but the majority died a most terrible death by being repeatedly hacked with a "panga", a local machete. If you could afford it, you would pay to be killed quickly; often, after having paid, you would be killed more slowly than the others. We have collected chilling testimonies, which we will publish in the book.
So as we all should never forget the victims of this dreadful act, there is a well constucted memorial recounting the horror of this genocide.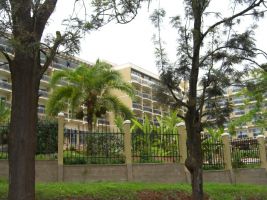 Hotel Rwanda
During these extraordinary events, many people tried to save lives. An example is Paul Rusesabagina, who at that time was the manager of the Belgian Hotel des Mille Collines, (pictured). A must-see film has been made from his story, called Hotel Rwanda.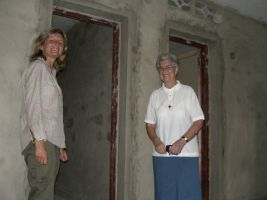 Rooms for the poor
A group of Belgian nuns has been witness to the last 50 years of this country. They have built a school for 700 children, 425 of whom live on the premises. There is accommodation for 55 working girls; they also manage a canteen for the poor and every day they feed 80 people. There have other projects in mind. We decide to help them by donating an Elfo token (details in solidarity)


Gisenyi – Goma 23 Oct 2008
Some time ago, this was only a city. Nowadays, Gisenyi is on the Rwandan border with the hell that is Congo DCR. By Lake Kivu, Gisenyi is a tourist place full of villas and hotels. In this unstable and dangerous 'hot spot', the only tourists are the rich Africans. We camp in the garden of the Lake View Hotel for $5.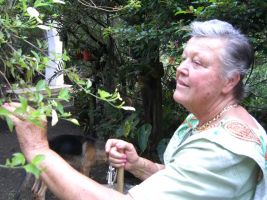 Nicole Merlo
We have the great pleasure to meet the Congolese writer Nicole Merlo. She was born in Congo DCR to Belgian parents, later she married an Italian immigrant, and she has so many stories to tell that could fill the pages of many books. Outstanding stories about her African life and terrible ones about the genocide. She has saved many lives, at risk of her own. We will publish some of her stories in the book. Passionate about orchids, she has shown us her collection that bears more than 4500 species.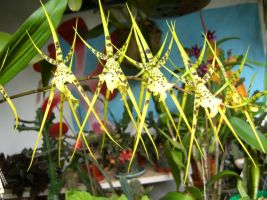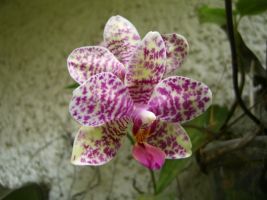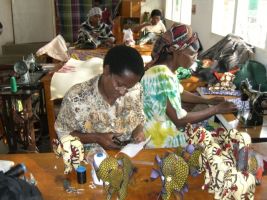 Poupeet'ique - Atelier des Femmes
These puppets are beautiful! We buy a few of them, so that we can sell them on our Elfo stalls. They are hand made in this lab by HIV positive women and widowers of the genocide.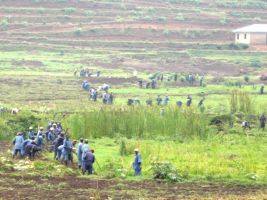 We head towards the Ugandan border.
The weather is terrible. It rains hard two or three times a day. In this volcanic region, the weather is always humid during its rainy season.
Everywhere in the country, there are people working in the fields and on the streets. Most of them are prisoners found guilty of horrible crimes during the genocide and now on rehabilitation programs, these Rwandans have to also deal with the remorse.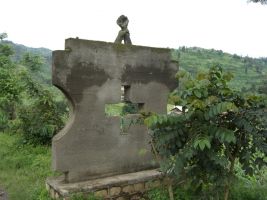 Along the roads, there are many monuments like this one, so as not to forget those most horrific massacres of 1994.
Here, one hand is stopping another that is trying to strike them with a machete; however, locals who couldn't stand the sight of the machete and the memories of anguish it evoked have broken it off.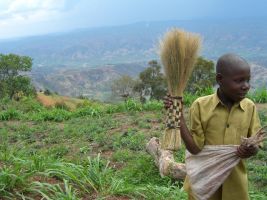 Impressions
Green, lush and heavily populated, if you did not know its history, Rwanda looks and has all the hallmarks of a peaceful State. People and the police are kind and polite.
An interesting place worth a visit, are the gorillas in the mountains (if you have $500 a head to spend) or the lovely volcanic region to the west.
Knowing what has gone on here and the terrible atrocities, you cannot help but ask yourself, how it was possible. Speaking with locals, they give the impression that questions have been answered and all seems to have been resolved, but the hatred between the two factions hasn't gone yet.
A majority of the assassins are still at large seeking refuge across the border, for the while they are waiting, and when the opportunity arises, they could be back to finish off what they had started. This could all happen again…
We woefully leave this beautiful place behind us, our hearts filled with sadness.