Solidarity
We left some help in...
Mali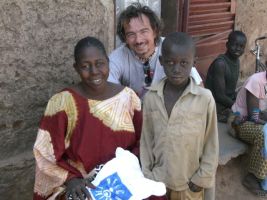 EDEN School and Ousmane (Mali)
In this working-class neighbourhood on the outskirts of Bamako, there are many flats; small, modest, new and old. Here, many private schools have been built; they do not have many things here but these schools, evidently, seem to work. Nevertheless, it has been quite difficult to find EDEN school. Nobody speaks French here and, when we finally find the school, it was closed (until 7th January). Anyway, with the help of local people, we find the child's family. We leave school material for him and greetings from his distant adoptive parent back in Italy. If we had found the school's headmaster, we would have left something for the other kids.