Solidarity
We left some help in...
Gabon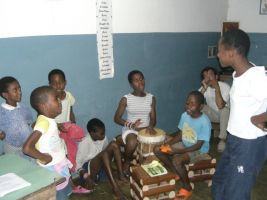 BITAM Orphanage
Two nuns run this centre, one from Cameroon and one from Canada. The centre is currently host to ten children aged between 7 and 15.
The demand from mothers for a place for their children is very high, but the nuns do not want to transform this centre into a boarding house. The nuns are few and with few means.
Usually, the children staying here only have aunts, uncles or grandparents who live far away. When the children go to visit their relatives, the nuns give them food to take with them for the time they are away, as their families are so poor that they cannot afford an extra mouth to feed.
We leave some toys, some coloured pencils and an Elfo token worth 50-euro towards food.