Solidarity
We left some help in...
Congo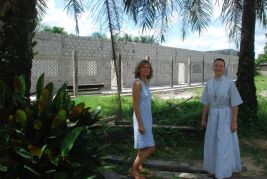 A new school in Oyo
In the inner and poorer area of Congo, in the little village of Oyo, Sister Elsa and the other sisters from Poland are building a new school for the children of the nearby villages. Outside the capital, you cannot find schools of this type within 250km. This will prove to be an excellent opportunity for many young kids to further their education. The first class has already started, but teachers and pupils are doing lessons in the classrooms as they are constructed.

Next to this new structure, a nursery school, a primary school, a library and some recreational activities have already been built.
We leave a 150-euro Elfo token towards school material for the new college.