Solidarity
We left some help in...
Namibia 2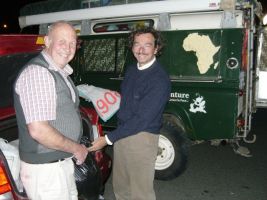 100km Namibia Desert Run - Runners contributions
Thanks ever so much to all the runners for their contribution, in the form of clothes, medicines and donations towards Elfoavventure solidarity events.
Particular thanks go to Massimo and Giuseppe, Johnny from Ireland, Miriana from Rovigno, Rita, Sandra, Daniele and Maria. Items of clothing and shoes plus blankets (locally bought) have been given to Jurgen, who works with Dreilinden orphanage in Namibia.

All the medicines collected will be taken to a hospital in Madagascar.