About US
Kla & La.
Claudio and Laura.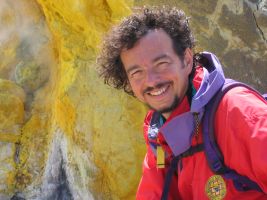 Claudio
K Wizard
• Presidente of Elfoavventure, an educational/sports Association
• Sailing instructor at VELAMARE CLUB school
• Instructor in mountaneering for over 12 years
• For 15 years, member of the national Mountaneering Rescue Team
• World wide sea captain
• 1990 Camel Trophy competitor
• For over 7 years, instructor and member of the selection panel for Camel Trophy
• Holds sail boat and motor boat licences
• Lifeguard
• Tour leader at "La Boscaglia"
• Sail/rock climbing instructor at "Elfoavventure"
• Team manager running/walks endurance events
• Last but not least, Salsa, Merengue and Bachata dance instructor.


---
Lauretta
I was born in Piemonte Italy , and I have been living for many years in the region of Valle d'Aosta, surrounded by some of the most beautiful mountains in Italy. Here, along with my passion for travelling I have discovered the pleasure of summer and winter mountain trekking, which has also lead me to undertake numerous trekking holidays in other parts of the world.

Wishing to dedicate more time than just the annual holiday to a single trip has always been in my thoughts, and has always remained my heart's desire. A source of inspiration has been the book I read some years ago by P. Moore "The wrong way home", an account of a long journey by land from London to Sydney.
---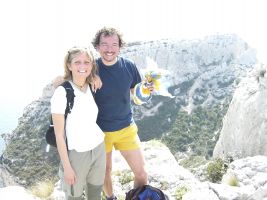 In 2004 I met my partner Claudio. His passion for travelling - like my own – coupled with the knowledge of having the right person by their side has compounded the desire to undertake a trip of this magnitude thus awakening and firing-up the dream once more.

I have now handed in my notice and I will soon be leaving my job as a pharmacist. Together, Claudio and I will embark upon our trip overland across the immense African continent.

The enormity of the African planes requires means of robust reliable transportation such as our trusty Land Rover Defender (AKA Landy K7), but we will allocate some time to walking excursions. At last, we'll have the chance to afford enough quality time to the places we'll be visiting, freely, with no hurry; making for not just a journey, but a real adventure!

During the past year I have spent a lot of time painstakingly researching and - hopefully - finding out all there is to successfully and safely undertake this trip: itineraries, contingences, historical and political information, VISAs, passports, relevant documentation, prevention for diseases, etc… Furthermore, I have gathered together names and contacts of the organizations that we – The Elfoavventure Association – will be visiting throughout the project.

---