Preparation
Planning the journey
In the last few months we have fully immersed ourselves in simply getting ready in order to successfully and safely undertake this expedition.
---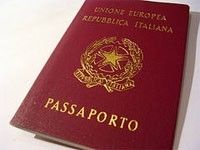 Passport
We have applied for 48-page passports rather than the traditional 32-page one, to accomodate any endorsements VISAs, etc...

48-page passports are currently available, but we must warn you that some agents seem to be unaware that they exist. Therefore, if you really need them, you need to be persistent.

---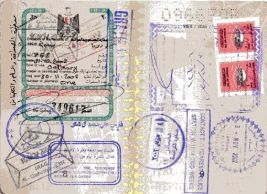 VISAs
All VISAs necessary to enter the African countries will be applied for along the way. Their validity is limited, therefore it's not possible to request them in advance.

We will also be taking a dozen passport-sized photos and a number of pre-filled application forms in the relevant languages, to speed up customs bureaucracy and in the event of road blocks.

---
International Driving Lincence
The International Driving Licence is a translated copy of the Italian one and it must be accompanied by the original. It is valid for a year from the date of issue and it is compulsory in some states.
---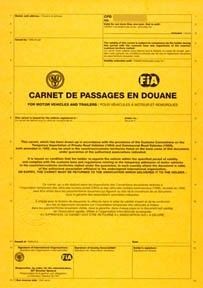 Carnet de Passage en Douane
It is an expensive but essential document for anyone wishing to travel to Africa with their vehicle. In Italy, this document is issued by ACI (Automobile Club Italiana), after being released of a considerable sum of money.

It is valid for a year from the date of issue and it allows the temporary exportation of the vehicle without paying further taxes when entering a state.

---
The International Registration Document
Also known as carte Gris or ICMV. This is a multilingual version of the car's registration document. It is valid for a year from the date of issue and like the International Driving Licence is compulsory in many states. The International Registration Document must be kept with the car original registration.
---
Car Insurance
The green card issued by the Italian insurance company covers all the European countries we will cross and also Marocco. For car cover in other states, we will need to take out a third-party insurance each time.
In some places car insurance is compulsory. An insurance which covers the vehicle in more that just one state is also available.

---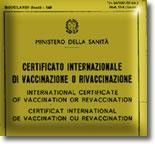 International Vaccination Certificate
An International Vaccination Certificate is compulsory in order to enter some states. In particular, immunization against yellow fever.





We have been immunised for:
Hepatitis A
Typhus/Paratyphoid
Meningitis
Tetanus/Diphtheria
Yellow Fever
Cholera

Moreover, antimalaria measures will be adopted. We will assess the epidemiological circumstances which varies according to the rainy periods.
After consulting CESMET (the Tropical Medical Centre in Rome) we have decided to use "Doxiciclina", a suitable medicine that can be administered for longer periods of time.

---
International Medical Insurance
We have taken out an International Medical Cover for medical expenses, clinical tests, hospitalization and for a journey back home in case of health problems.
---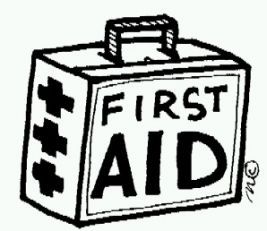 Our medicine cabinet

We are taking a First Aid Kit with various pharmaceutical products.
The kit must be accompanied by a medical statement which states its personal use.

---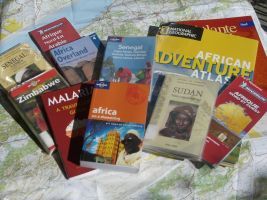 Guides - Maps - Books

Africa Overland
Jones-Gibbons ed. Bradt
(in English)

Africa on a shoestring
Lonely Planet
(in English)

Malaria, a traveller's guide
ed. Struik
(in English)

Africa Adventure Atlas
National Geografic

Michelin Maps
n. 741 - 742 -745

Guide Polaris and Edt by singol country


Vado verso il capo
S. Ramazzotti ed.Feltrinelli
---